WT Class Usability Testing
Evaluating Through Active Use
Interviews
Interviews are a good way to connect with users, either one-on-one or through group discussions, to see what they really think about a system. Individual interviews allow the interviewer to target more specific subjects or areas of concern; this creates better feedback. Also, in an individual interview, the person being interviewed is forced to create their own answers and feedback to the interviewers questions and concerns because they simply cannot go along with the crowd.
The interview is a method for discovering facts and opinions held by potential users of the system being designed. It is usually done by one interviewer speaking to one informant at a time. Reports of interviews have to be carefully analyzed and targeted to ensure they make their impact. Otherwise the effort is wasted. [1]
Since individual interviews are not always the most cost effective option, group interviews or focus groups can provide a cheaper alternative, since its much faster, and better constructed and organized feedback. Since a system and its interface cannot appeal to everyone the same way, different user groups can be interviewed and have their feedback cataloged apart and taken into different considerations from each other.
Now lets use WT Class as an example. Lets say the university wants to learn more about what students and faculty think about the messaging section (or any section) of WT Class through the interview process. If the university conducted individual interviews only, they may find that 30% of those interviewed had a problem with the messaging section being difficult to use. This definitely represents a problem. The university has a few options for courses of action to fix this usability problem. They could try and make the messaging section of WT Class easier to use in general. But what if 80% of the 30% that found WT Class to not be user friendly were freshmen english majors? Then perhaps the university could then target this specific group with another interview to help decifer exactly what the usability problem is and how to correct it. Or maybe since most of the problem exists in such a small portion of the overall population, a change is simply not needed or financially justifiable.
Discussion groups
Sometimes users have questions about there application's software and the computing environment is a 24/7 process and users may and will have problems outside of traditional working hours. This is why interface designers offer user discussion groups, Wiki, and newsgroups for open messages and questions but it doesn't have to be connected to that product as independent discussion groups are hosted and can be found with a search engine.
A discussion group usually offers a list of subject headlines such as "hey this X doesn't work" allowing a user to search of topics related to X. The content is user generated meaning anyone can add to the discussion whether it is someone is in the business of that product or just a user with insightful information or someone just spamming with is usually closely moderated.
Using feedback in this way allows managers to gauge user attitudes toward the product and offers a pleasant feeling for users to see comments and suggestions from managers.
WT Class from my searching doesn't offer anything type of discussion group but is hosted through the angel learning services and a Quick navigation to their site shows they have a large user based discussion groups and an over all strong community connection. It has a large archive of discussion posts from users of the system. An example is a user discussing an update to 7.3 that makes powerpoints open his power point 2007 and not open an the existing Angel browser Window. He would like it changed back the way it was. Then it continues on with people correcting what he was doing wrong and helping him correct the problem. This would allow developers to correct the problem later on in the future maybe offering a help page informing users that this could happened and here is how you can correct it. Groups such as this allow for problems to be recognized quickly and create a change to improve on the current design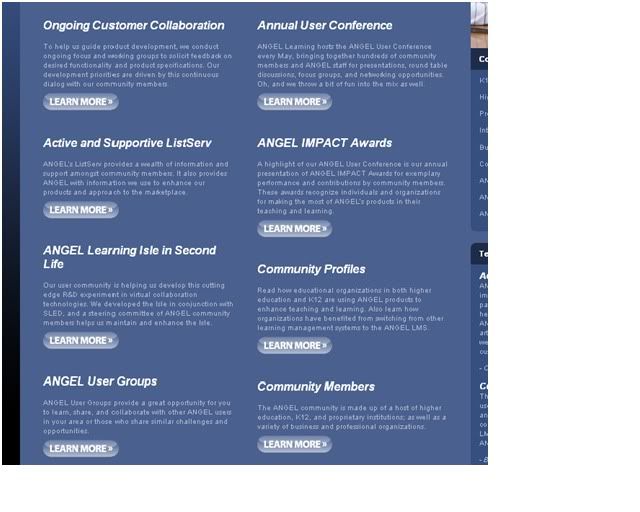 Online or Telephone Consultants, E-Mail, and Online Suggestion Boxes
The Information Technology department of the University operates a telephone help-line for the purpose of answering user's questions and resolving user's problems concerning any of the University's systems including the WTClass LMS. The support person fielding the help-line calls could log the issues that are discussed in order to determine any specific pattern of failure and provide feedback and suggested improvements concerning the design of the LMS interface. The IT department could extend their reach into the end user community by offering the same help services via email or chat session. Recommendations for interface improvements could also be solicited directly from the end user by hosting an online suggestion form that would provide written record of guidance supplied in the language and vocabulary of the end user.
The IT department is itself an end user of the LMS interface from the perspective of Angel Learning services. For any changes to or issues with the LMS that are beyond the technical scope of the University's developers and system administrators Angel Learning provides technical consulting and an on-line support portal as well as an end user help desk solution. The LMS system comes equipped with many different portals that can be enabled or disabled, one of the portals could be a suggestion box that would provide feedback to the University and Angel Learning. All of these methods could be used as a connection to the end user in order to gather and create an inventory of suggested interface improvements.
page revision: 14, last edited:
21 Sep 2009 18:06